Fast Lifting Speed 
38mm/second

Our Scandinavian designed Jive Standing Desk is everything you could ever want in a height adjustable standing desk. We've engineered a proprietary powder-coated finish called XOOM™ that's incredibly durable, enclosing the entire top so there are absolutely no seams—not even around the edges. After rounds and rounds of testing, we have a harder, smoother, and more water-resistant powder-coated MDF (medium density fiberboard) desktop.
Supporting it all is our best reviewed, customer-adored Jive frame. It is considered the "best standing desk on the market," according to customers and reviewers alike.  It has an industry-leading lifting capacity of 140kg and can quickly and quietly adjust from 62cm to 128cm height.
Utilising a solid steel frame increases both side-to-side and front-to-back stability. Our LED programmable handset makes adjustments easier with a simple one-touch operation and allows you to program and store up to 4 heights. And we now ship in 100% recyclable and EPE-free packaging, splitting the frame and table top into two boxes to make it much easier to move and unbox.
Features:
We've formulated a special surface coating with millions of finely textured microscopic light reflecting points, creating the perfect surface for precise mice tracking. With no seams at the edges, it is built to last and won't peel or fray from heavy use.
XOOM™ tabletops are available in either a Straight Edge or an Ergo Curve design.
Pre-drilled holes ensure quick and easy installation of the Jive desk frame using a Phillips head screw driver and allen key. No drilling or measuring required.
LED Programmable Controller

Our LED hand controller displays the height from the floor to the top of the desk in centimetres.
Program up to four different height settings at the touch of a button. Once programmed the One Touch functions raises or lowers the desk to your desired height with one press of the numbered buttons. Premium solid click buttons will not fray or detoriate over time.
In-built USB charger positioned on the side makes charging devices a breeze,
Commercial Grade Components

The Jive frame is engineered from solid steel which provides exceptional stability at sitting and standing heights. In-built proprietary motors are hidden within each leg column and are whisper quiet in operation.
Easily switch from sitting to standing in under 7 seconds at the touch of a button.
Three stage leg column provides maximum height range to suit a wide range of people. The lowest height setting is 62.5cm and the highest is 128cm (measured from the floor to the top of the desk).
In-built levelling pads allow up to 2cm of adjustment on uneven floors.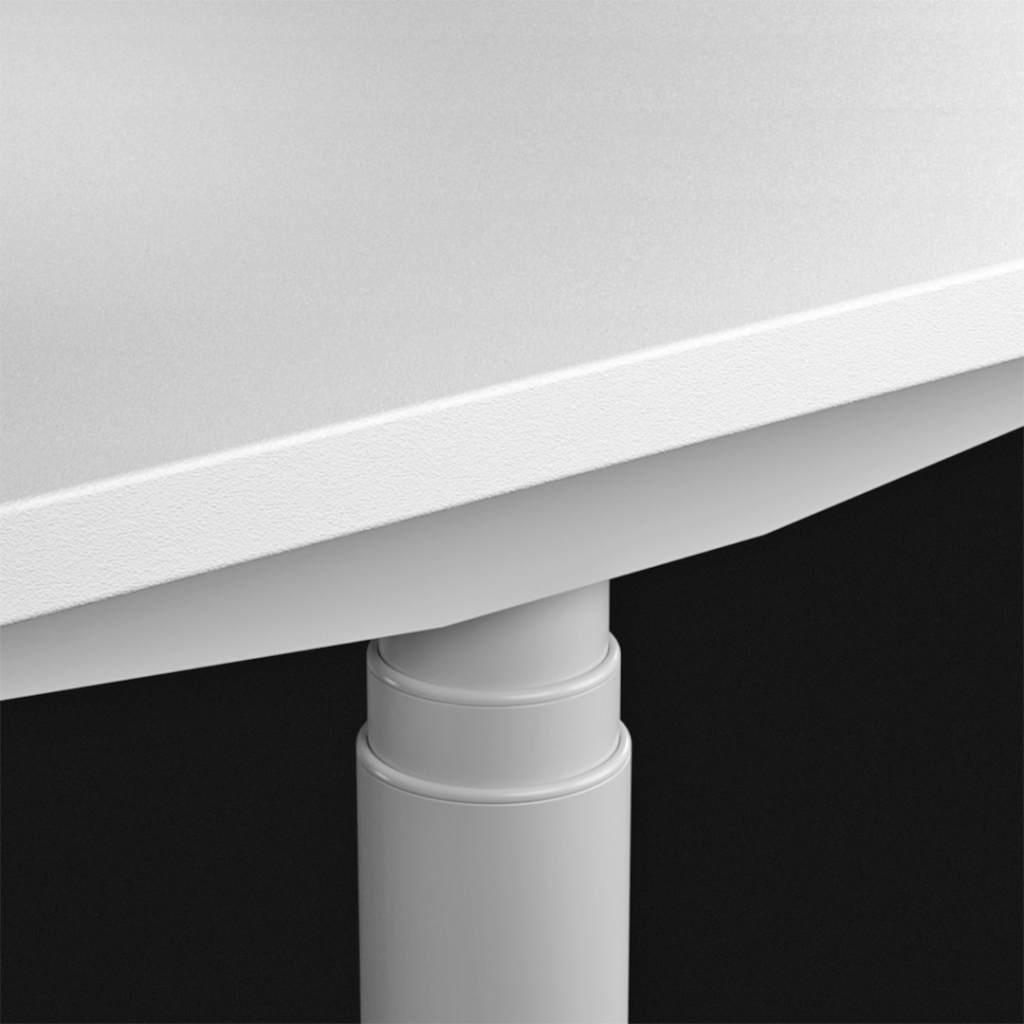 Optional: XYNERGY Power System

Power up to 12 devices with our XYNERGY soft wired solution. Easily expand and upgrade your power as your needs grow. All modules are daisy chained from one to another eliminating ugly power boards and extension cords. Instead of having a birds nest of wiring underneath your desk, you will have one power cord to your wall socket.