Closed Until Monday 10 January 2022      
Description
Our Scandinavian designed Evolution Laminate Standing Desk is everything you could ever want in a height adjustable standing desk.
A commitment to sustainability underpins our processes from product manufacturing to building practices and forest management. When it comes to sustainable operations, we are leading the charge to create products that reduce harm to the environment. We're proud to announce we've developed a Global Greentag Certified range of environmentally preferred, low-emission laminate tabletops made from recycled wood fibre.
Supporting it all is our best reviewed, customer-adored Evolution frame. It is considered the "best standing desk on the market," according to customers and reviewers alike.  It has an industry-leading lifting capacity of 140kg and can quickly and quietly adjust from 62cm to 128cm height.
Utilising a solid steel frame increases both side-to-side and front-to-back stability. Our LED programmable handset makes adjustments easier with a simple one-touch operation and allows you to program and store up to 4 heights. And we now ship in 100% recyclable and EPE-free packaging, splitting the frame and table top into two boxes to make it much easier to move and unbox.
Global Greentag™ Certified Tabletops
A waterproof, stain resistant and Global Greentag™ Certified laminate, available in a wide range of colours. On the inside is a heavy duty commercial grade particle board substrate. Finished in a matte overlay provides a sleek and non reflective writing surface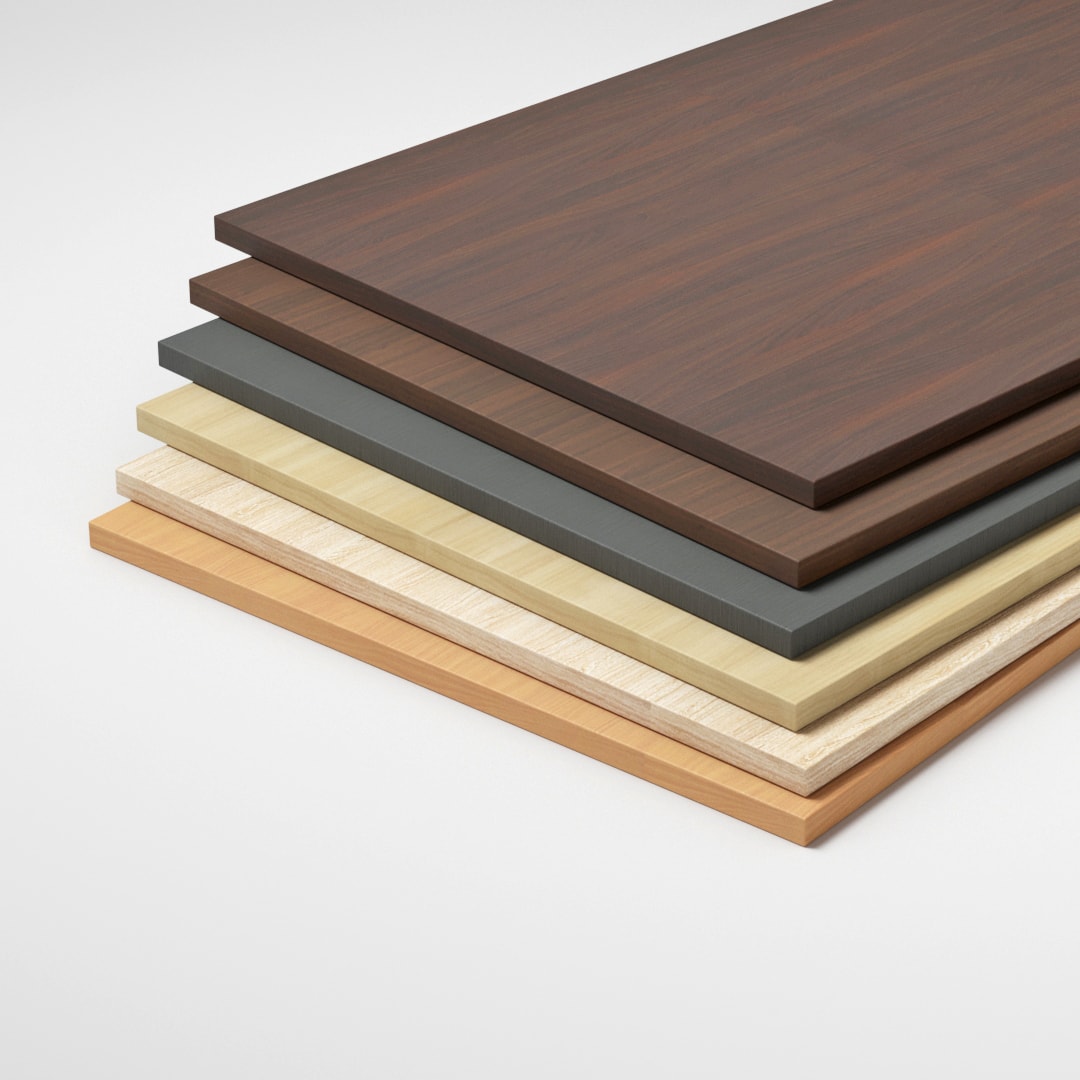 LED Programmable Controller
Our LED hand controller displays the height from the floor to the top of the desk in centimetres.
Program up to four different height settings at the touch of a button. Once programmed the One Touch functions raises or lowers the desk to your desired height with one press of the numbered buttons. Premium solid click buttons will not fray or detoriate over time.
In-built USB charger positioned on the side makes charging devices a breeze,
Commercial Grade Components
The Evolution frame is engineered from solid steel which provides exceptional stability at sitting and standing heights. In-built proprietary motors are hidden within each leg column and are whisper quiet in operation.
Easily switch from sitting to standing in under 7 seconds at the touch of a button.
Three stage leg column provides maximum height range to suit a wide range of people. The lowest height setting is 62.5cm and the highest is 128cm (measured from the floor to the top of the desk).
In-built levelling pads allow up to 2cm of adjustment on uneven floors.
Optional: Evolution Power Rail
Power up to 8 devices with the Evolution Power Rail.
Made out of high grade steel the power rail is secured underneath the tabletop at the rear. Easily access your accessories and eliminate ugly power boards and extension cords with the integrated power units. Instead of having a birds nest of wiring underneath your desk, you will have one power cable from your wall socket directly to the Power Rail.
Additional information
| | |
| --- | --- |
| Tabletop Colour | White, Seasoned Oak, Natural Oak |
| Frame Colour | White |
| Desk Size | 1200×750, 1500×750, 1800×750 |
| Option: Cable Management | None, Cable Tray Only, Cable Tray with 4 Power Plugs, Cable Tray with 8 Power Plugs |
I've been wanting to purchase a standing desk for a long time now but wasn't able to try out any standing desks during lockdown (didn't want to risk buying one online without trying it first and being disappointed when it came). When we were finally back in the office, I discovered that my workplace has been using Elevate ergonomic desks. I just knew I had to have this at my home office. Ever since having this desk, my posture has been so much better and I have been more productive with work. Admittedly, it did take me a while to set everything up (I bought the wrong tools at Bunnings by accident but that's on me!) but once I had everything together, the table was super easy to use. I love that you can have saved height options as well which is super convenient. The customer service team were super friendly and helpful as well!
After spending months trying to pick a stand-up desk, I finally decided on Elevate. When it arrived, I was so stoked! It was fairly easy to put it
together by myself and it worked immediately! It certainly has been one of the best decisions that I have made for myself and I look forward to
continuing enjoying my new Evolution standing desk. Thank you
Works, simple and really lifts my workspace - yep pun intended
Thanks Elevate! I really enjoy the Evolution standing desk so far. It took a bit of time to set up but since using it I've had zero issues, works as I anticipated it.
I absolutely love my Evolution desk. We have another sit/stand desk form Ikea and it's awesome. What this standing desk has that the Ikea one doesn't are the
pre-sets which is quite convenient.